Video: Solving connectivity for the Internet of Things
This post was originally published on Engineering@TelenorDigital.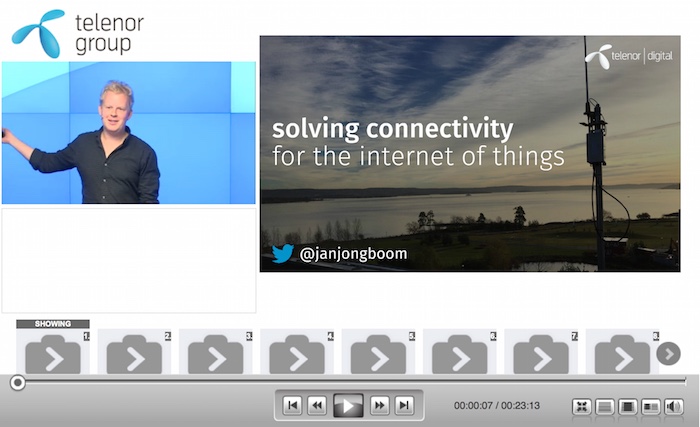 Click the image above to start playing the video
---
During the Telenor Technology Fair last month, I (Jan Jongboom) gave a talk about connectivity and IoT, a subject which I'm dealing with in my day-to-day job. We'll go over the current issues with connecting smart devices, promising new technologies, and our experiences making the Telenor office in Fornebu (Oslo) smart. It's also a tale of how telco's need to transform if they want to be part of the IoT movement.
If you don't like video, the slides and outline are listed below.
Slides
Outline
Jan Jongboom, part of CTO Office, focusing on Internet of Things
IoT in Digital is spread out

Four different teams working on variety of aspects.

Interesting part: all aligned goals, all ended up at the same problem.
When connecting devices, two choices: long range, or long battery life. Pick one.
Long range: traditional cellular tech. 2G. Battery life of a week.
Short range: variety of choices, bluetooth, zigbee, etc. Range at most 100 meters.
If we want to do this 'IoT' thing, connecting sensors, we need to do better. Bandwidth doesn't matter for the first time.
Can we do better? Yes!
Variety of new tech is coming out. All same principle:

Sub-GHz spectrum (868 MHz in Norway, free spectrum)
No gateway pinning
Big antenna picking out the signals

Results: penetrates buildings, walls, etc. Range of 2 kilometers in downtown Oslo (from Olav's balcony to the library), 10-15 kilometers in open field
Only draws power when emitting data, perfect for sensors. (e.g. send temperature measurement every 15 minutes)
Variety of vendors: LoRa, Sigfox, Siglo, Weightless-N
LoRa
Can enable completely new business models: better be part of it…
Our choice: LoRa.

Available today for relative low cost. Gateways 1200, end-device chips 6, complete PIR sensor we bought is 30.

First project: Telenor Eiendom

Making Fornebu smart with 400 sensors

It's a pilot with internal customer. Let's build some own sensors.
100 of these developed internally. 300 bought from external party.
Build up hardware competency in Digital.

Flex-desk availability rates, monitoring temperature, counting toilet usage, push button to indicate problems
Using LoRa we only need 2 gateways on the top of building, nothing else. Just buy the sensors and deploy
Integration with facility management system MCS to auto-dispatch coffee repairmen / women

Lot of initial work

Gateways are available, but they are dumb
Just scan spectrum for messages, forward the data, but to where?

Traditional model, buy service from Huawei or something
This is the new decade, The Things Network can solve this efficiently w/o waiting for telcos

Instead of buying it, let's build it ourselves
Technology stack
Multiple basestations will receive the data (no gateway-pinning)
Forward to network. All logic in here: de-duplicating, adjusting data-rate, join'ing, verifying, etc.
Also encryption, as all messages are end-to-end encrypted, gateway cannot do MITM.
Took the demo-implementation from Semtech (company behind LoRa), and went building on top of it.
Now:

Comes into network
Routing the messages through AWS IoT
Store data into DynamoDB
Subscribe to live-feed f.e. to create calls in facility management system, or use historic data to analyse when desk was used.

Our problem is not unique. Private site, private network. No telco required. But it's a lot of work on the tech site.
Lora Network Server
Take our learnings and enable anyone to take advantage of them.
Network Infrastructure as a service. You bring gateways and devices, we handle everything from device onboarding to historic data APIs.
Telenor LPWA (working title): create private network with the push of a button.
Telenor Eiendom's network is already running on it. Can open this up to anyone. E.g. Telenor Norway, but also DNB HQ f.e.
Live at http://lora.cloud.tcxn.net:1880/
Additional benefit: we can route messages for other networks through any gateway that's part of LPWA (regardless of branding): building a big Digital network around the world.
Next steps
The Fornebu network is open through Telenor LPWA
Read f.e. http://blog.telenor.io/iot/2015/08/04/smart-meetingroom.html, get a device and register, it's pretty simple.

Trondheim team happy to help out when you want to take it further.

Get your data out of the system and start hacking something cool!
Thank you
---